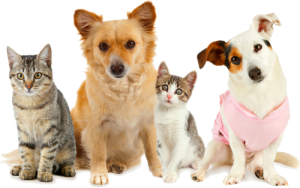 Boarding Kennels & Cattery
Overlooking Boothwood Reservoir (hence the name) and situated close to Junction 22 (M62), Boothwood Boarding Kennels & Cattery is something of a landmark in the Calder Valley. Pets from Halifax, Ripponden, Oldham and Rochdale are regular guests and we are always happy to see new faces.
Proud of our reputation for providing a safe, clean, friendly environment for your family pets, we make it our mission to return your furry friend as healthy and content as the day they checked in. Of course, your pet will miss you whilst you're away, but rest assured, they will have a happy time here at Boothwood.
We stock all leading brands of dry and wet food and are happy to administer medication and prescription diets where provided by the owners. If you have any questions or would like to arrange a stay for your pet, don't hesitate to call 01422 824 320
Sally & Paul
---
Boarding Kennels
Many dog owners who have brought their pet to Boothwood have commented that their dog has a better holiday than they do! And, indeed, that is our aim.
Dogs are social creatures, so throughout the day staff make sure that our 'guests' receive lots of attention (which is why there are so many wagging tails). And, twice a day, each dog is exercised on our half acre field.
Comfort & Welfare
With a comfortable inside sleeping area (heated for the winter months) and a its own outside run, each of our kennels has been carefully thought out to ensure a stress-free environment during your dog's stay.
SAFETY FIRST
Naturally we insist that all dogs have up-to-date vaccination records before we allow them to stay at Boothwood. This policy also extends KENNEL COUGH (Canine Tracheo-Bronchitis), a particularly virulent infection which spreads by airborne droplets when a dog sneezes or coughs. Environments such as boarding kennels offer the perfect conditions for rapid spread, so it is vital that owners ask their vet to include a Kennel Cough Intranasal Vaccine before staying at Boothwood. Read more about KENNEL COUGH…
Cattery
Whether aloof and solitary, or prima and playful, your feline friends will enjoy their 'spa-break' here at Boothwood.
Comfort & Welfare
Cats like to feel safe and warm. Our spacious cattery pens are snug and cozy in the winter and air conditioned during the summer months (of course), with plenty of vertical height for the adventurous ones.
Pens, corridors and outdoor areas are cleaned with Trigene disinfectant and all cats are provided with clean bedding. Each cat has their own litter tray which is cleaned regularly.
SAFETY FIRST
As with dogs, we insist that all cats have up-to-date vaccination records before we allow them to stay at Boothwood.
---
All areas are cleaned with Trigene disinfectant

We adopt an up-to-date vaccination policy.

Easy to find and easy to park.

Dogs walked twice a day.

Lots of attention given.

Huge exercise/walking field.

Open 7 days.

Come and see our facilities.